Customer Reviews
Some of our customer's comments about our classes and our workshop:
Juniors Class:
"Our 6 year-old daughter loves coming to the classes. After each class she is filled with pride as she tells us all about how she made the dish she's brought home and we can all taste it together. Cooking in such a relaxed environment with other children means she is developing her social skills as well as learning about different foods that she might not have tried at home."
Online Cooking Club:
"I am speechless!! Cerys won't anything she's not familiar with so I'd resigned myself to the fact I'd be eating these pitta breads myself. I was sorely disappointed though as she's tucking into them no problem at all 😍

I love Cook Stars!"
Weekend Class:
"I love watching my daughter's cooking skills and food knowledge develop from week to week, it is lovely to see her so immersed in the class and doing it all by herself. She is learning new recipes all the time and to see her face light up when we take her finished cooking back home to Mum to try, is a very proud moment for me every time!"
Mini's Class:
"Lizzie loves getting her hands dirty at Cook Stars whilst mixing all the ingredients together. She loves 'sampling' what's in her mixing bowl as she goes along, and I love sampling the finished treat at the end of the class!! Lizzie learns how to be a proper little cook... She even gets to do a fun craft activity while her creation is being cooked..."
Mini's Class:
"Cook Stars is a fantastic and unique activity. All the children are engaged in the class and are helped to explore different recipes. Children feel very welcome in classes and there is s a relaxing atmosphere for parents. Both of us feel very welcome at classes and have so much fun."
Junior's Class:
"Ethan has learnt many skills which I simply hadn't thought to let him try at home. We are provided with beautiful recipe cards so we can make our favourite things at home."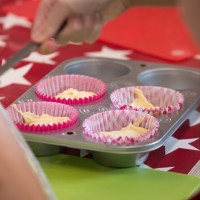 Mini's Class:
"My daughter thoroughly enjoys the cookery classes. She particularly enjoys weighing out the ingredients herself and is keen to try out new foods. She also loves the craft activities that we do whilst the food is cooking such as making a chef's hat and a personalised Mother's Day gift out of salt dough."
Juniors Class:
"Although we do baking and pizza making together at home, she's had the opportunity to make a wide variety of dishes from cannelloni and rough puff veggie pasties to biscuits and delicious fruit crumbles. There's never very much left for me to sample!"
Rainbow Party:
"We had a fantastic time at Sara's online rainbow party 🌈 the children have talked about how much they enjoyed it all day! Sara was brilliant guiding all of the children through the steps and they produced fab rainbow cookies and pizzas by the end of the session. I'd highly recommend!"
Mini's Class:
"Myself & Alfie love our weekly Cook Stars class. It is a friendly and relaxed environment where you can spend some time having fun and cooking together. The recipes are really yummy and it also introduces Alfie to some new foods that he may not have tried before. The fact that your own kitchen stays nice & clean is a bonus!"
Online Cooking Club:
"Highly recommended, absolutely fantastic, kids and were really engaged and loved the whole experience, especially the end result where they could be proud of their own achievements. Great to have this via Zoom so we can do this from the comfort of our own homes during this Covid pandemic and made me as a parent feel like I've been able to give them something more structured. Thank you!"
Online Cooking Club:
"I love the relaxed way Sarah teaches. It was lovely as a nana to be included in the zoom class today as I always attended classes with her.
Can't wait until our little one is old enough to go to the classes 😁"
Online Cooking Club:
"We joined Sarah's Easter class online from Vietnam. The children had a wonderful time and were so very proud of their chocolate Easter nest creation. Sarah's instructions were clear, easy to follow and her patience and calm manner was greatly appreciated. We look forward to being able to join again online in the future. Thank you. 🧁👨‍🍳👩‍🍳🐰👏👏👏"
Mini's Class:
"I took my 3 year old today to make his own picnic workshop and we both had a great time. It is very well organised lots of activities including making shortbread, pizza whirls, a rainbow wrap, a dip and some pepper and carrot sticks. The food tasted really yummy and we are going to book again. Overall was great value for money.
Easter Workshops:
"Elizabeth really enjoyed the online interactive cookery class where she made an Easter nest and chocolate truffles. Carrie-Ann is great at teaching the children to cook and explains everything step by step so we could keep up...even with a 2 year old. We were quite surprised at how much we achieved during the class and Elizabeth was very proud! Would recommend for all ages as I enjoyed it just as much as she did!"
Easter Workshop:
"We took part in an online cook along this morning and it was absolutely brilliant! The organisation was fantastic, we received our list of ingredients in plenty of time and had everything prepared for when the cook along began. Sarah was fantastic with the kids and talked us through every step of the way, constantly checking that everyone had completed each step. The craft activity whilst we waited for our Easter nests to be ready kept Isabel occupied whilst I cleaned up and the dancing at the end of the class was the cherry on top of the cake. Isabel can't wait to do another cook along and neither can I. We can't wait to eat our creation tonight. Thank you Sarah, we will definitely be back whether it's online or with you when everything goes back to normal. Thanks again, Michelle & Isabel xx
Easter Party:
"Huge thanks for the Easter party. Thea was able to complete all parts of the cooking with minimal fuss and it was so well organized and well paced. Very helpful and thoroughly recommend x"
Online Parties:
"She had an amazing Cook Star Party today! Thank you Annette!!"

"Me & daughter had a lovely time at her school friends bday party today. As we're in lockdown we had a party via zoom & Annette was so lovely & friendly. She was very professional & engaged with the children all the time. The kids loved doing all the baking & activities. Would highly recommend. Thank you so much x"
Easter Online Workshop:
"Just wanted to say a massive thank you for the session today. Out of all the 3 children, it kept the one with SEN the most interested so that's credit to you for explaining everything so clearly."
Lockdown Facebook Group:
"Amelie and I have been doing all the lockdown recipes, they are keeping us sane at home. We've made the cookie dough ice cream one about 5 times - a firm favourite."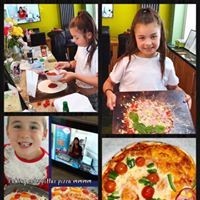 Online Rainbow Parties:
"We really enjoyed your session this morning especially eating the delicious pizza afterwards."

"Thanks again for a fabulous session as always. We had a great time and as you saw Tyler really enjoyed eating what he made."
Online Cooking Club:
"Edith's mac and cheese has gone down a storm. I have been demoted as house chef..."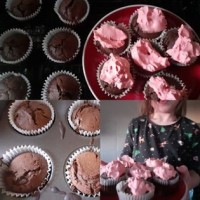 Online cooking Club:
"India and Oli also loved the session. The whole family enjoyed the food for lunch. Can't
wait for the next class!!"
Online Cooking Club:
"Fantastic zoom class and delicious food!!! Kids really enjoyed. Xx"
Online Cooking Club:
"A fabulous week of cooking. Can't wait for the pancakes tomorrow. Sophie has loved it and it's getting her to eat food she normally refuses! 😁"
Online Cooking Club:
"Delicious, yummy, tasty are just a few of the words we've used to describe today's lunch.
Thank you Sara & Cook Stars, we're loving all these recipes."
Online Cooking Club:
"One very happy chef. She says she can't stop eating it & wants to make it again!"
Online Cooking Club:
"Another amazing lunch courtesy of Abigail (with a little help from Sara at Cook Stars!). Thank you so much, she's really loving these lessons x x

PS they were so tasty, we've already made another batch and frozen them x"